Video: shows Russia testing 'Satan 2' intercontinental ballistic missile.
RUSSIA has again tested a missile Vladimir Putin says could hit any target in the world and render defence systems "useless".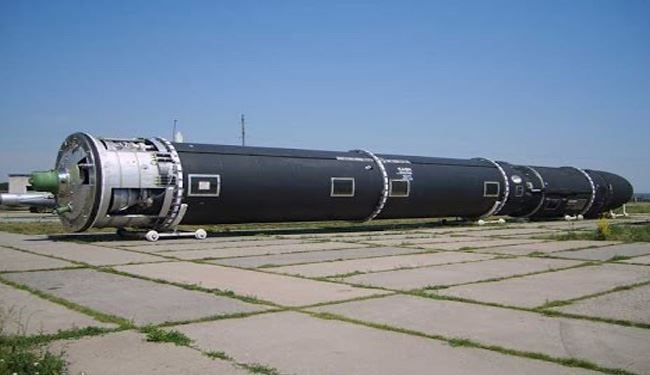 RS-28 Sarmat missile, dubbed Satan 2.


A NEW intercontinental ballistic missile hailed by Russian President Vladimir Putin as being able to fly over the North or South Poles and strike any target in the world has reportedly been tested for the second time overnight.

Fox News reports that Russia's defence ministry released a video purportedly showing the Sarmat ICBM blasting off in spectacular fashion from the Plesetsk Cosmodrome in its northern Arkhangelsk province, the move coming just hours after the Kremlin announced it would expel 150 western diplomats in retaliation for the response to the poisoning of an ex-Russian spy and his daughter in Britain.

The video shows the missile — dubbed "Satan 2" by NATO — rising out of the ground and seemingly floating in the air for a brief moment before more flames erupt, kicking up massive clouds of smoke and snow.

"No defence systems will be able to withstand it," Mr Putin said about the missile during his state-of-the-nation speech in early March.

The test-launch also comes after Mr Putin's recent re-election and a congratulatory phone call from US President Donald Trump — in which Mr Trump reportedly also warned his Russian counterpart, "if you want to have an arms race we can do that, but I'll win," according to two officials that spoke to NBC News.

Days before the launch, the US Navy test-fired its own ICMB from a ballistic missile submarine off the coast of Southern California.

Russia has been working for years to develop a new ICBM to replace the Soviet-designed Voyevoda, the world's heaviest ICBM and known as "Satan" in the West.

That ICBM carries 10 nuclear warheads, the Associated Press reported.

Mr Putin announced during his March speech the Sarmat missile was undergoing tests and debuted a video purportedly showing its first test launch, which he said happened in December.


Mr Putin said Sarmat weighs 220 tonness and has a higher range than "Satan," allowing it to fly over both poles of the Earth.

He also said it accelerates faster than its predecessor, making it harder for an enemy to intercept it in its most vulnerable phase after the launch.

Mr Putin added Sarmat also carries more — and more powerful — nuclear warheads than the "Satan" ICBM.

"No one has listened to us. You listen to us now,"]Mr Putin boasted during the March speech, when he revealed other weapons his country apparently has in the works, such as an underwater drone armed with a nuclear warhead powerful enough to sweep away coastal facilities and aircraft carriers, and a nuclear-powered cruise missile that's "invulnerable to any existing or prospective air and missile defence systems."

The White House responded to Putin's March 1 speech by saying he merely confirmed what the US already knows: that Russia has been developing "destabilising weapons systems for over a decade in direct violations of its treaty obligations."

http://www.news.com.au/technology/innovation/military/video-shows-russia-testing-satan-2-icbm-missile/news-story/6263cb160e01c966a3cdec1291ca1db9

Russia, China, and Nth Korea are ready for war - a war like no other, something Australia will not be prepared for.

Maybe Ezekiel 38 prophecy is coming true.