"Come back Swanny - We miss you. All is forgiven"
Only a lost little lefty would forgive that fool, you need more than a flu jab Bill.


Back a post I said - Billy cannot be trusted, back in 2012 he said that Labor delivered a surplus, in reality, they delivered us a deficit of $18.8 Billion.

And, while Bowen was treasurer our economy weakened, unemployment was increasing, and the budget deteriorated by almost $3 Billion a week.

Now thankfully Bowen was not treasurer for a whole year! The economic statement that was delivered by Bowen, eleven weeks after his budget, showed the budget's bottom line had deteriorated by $33 Billion.

The last thing we need is Billy and Bowen.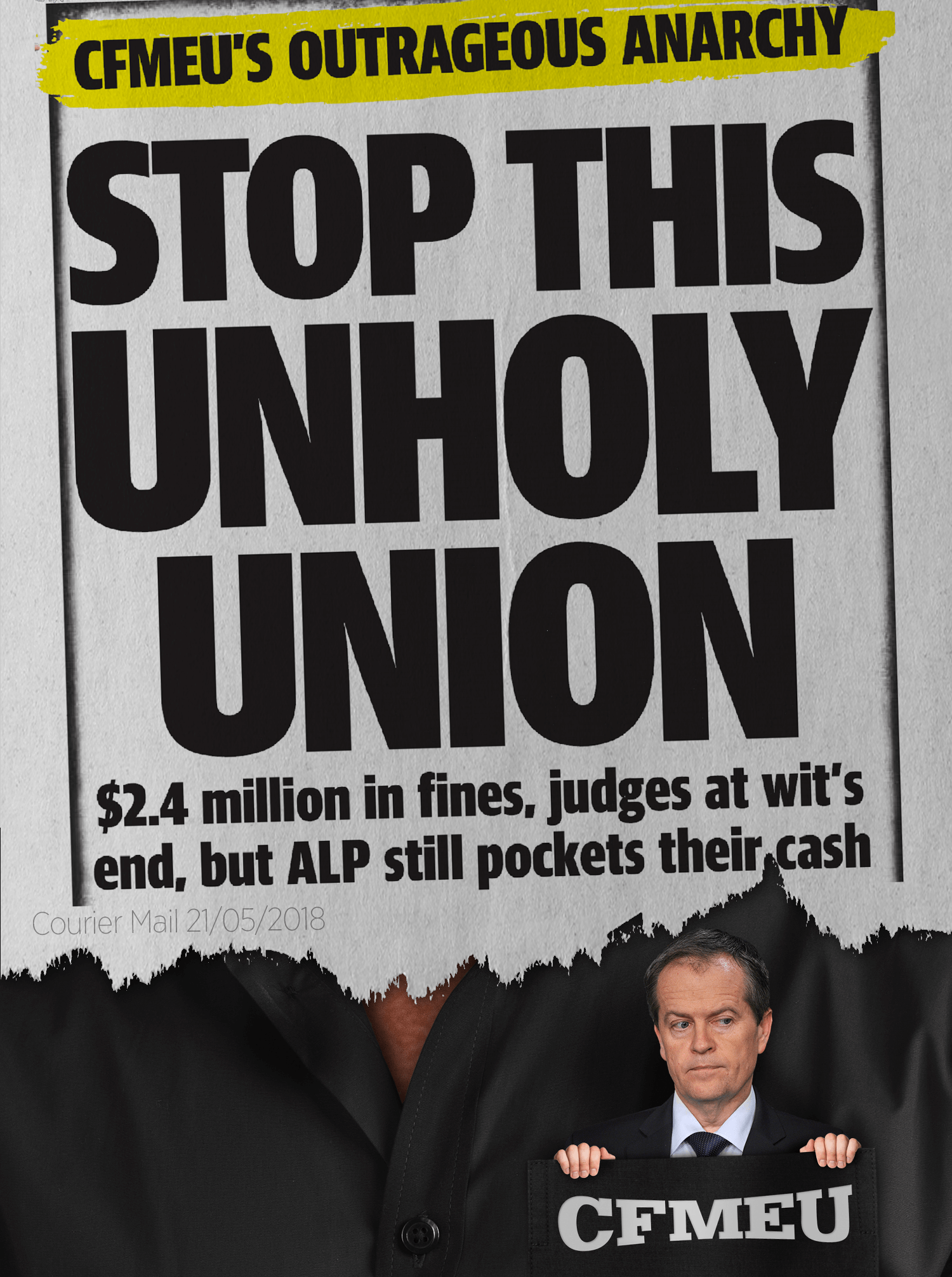 Bill Shorten won't say no to CFMMEU donations.

May 19, 2018 - BEN PACKHAM

Bill Shorten says Labor under his leadership will keep taking CFMMEU cash, as union boss John Setka declared he would give the ALP leader six months as prime minister to "restore workers' rights".

The Opposition Leader yesterday rejected a call from former Queensland premier Peter Beattie to refuse ­donations from the CFMMEU, which has given more than $11 million to Labor since 2000-01.

Malcolm Turnbull said Mr Shorten was unable to cut himself free from the CFMMEU because the union was his "paymaster". "They are his controller. He does the bidding of the CFMEU," the Prime Minister said.

The Liberal Party has already begun to prepare electoral messaging highlighting Mr Shorten's ties with the CFMMEU, distributing on social media an image showing a miniature version of the Labor leader in the pocket of a construction union official.

Mr Setka, who wants Mr Shorten to make it easier for workers to strike, and relax union right-of-entry laws, said he was not sure whether he could trust the Labor leader to deliver for workers. "If he becomes the prime minister, ask me six months later," the Victorian construction union boss told 3AW's Neil Mitchell yesterday.

"A lot of politicians say they're going to do a lot of things. People say in a broad brush, 'We're going to restore workers' rights'. Now what does that mean?"

Mr Beattie said if he were federal Labor leader, he would cut off the CFMMEU, which has 70 officials facing court over 39 matters, and has been hit with more than $5.2m in fines this financial year.

"I wouldn't take their donations because I think at the end of the day you pay too much of a price for it," he told Sky News.

Mr Shorten said Labor would continue to take money from the union, which operated "outside the law", according to Mr Setka. "No, I'm not going to take that advice," Mr Shorten said. "Unions and business and social institutions all have a right to be involved in politics." He said no one was above the law, but "I'm not the keeper of every official in the union movement".

He accused the Turnbull government of attacking unions while accepting foreign donations, and allowing big banks to get away with ripping off customers. "His priorities are all wrong — yet again protecting the big end of town and going after everyone else," he said.

In 2015-16, the latest year for which figures are available, the then CFMEU gave more than $620,000 to ALP branches.

Mr Setka set out his expectations of a Labor government in The Australian yesterday, after prosecutors dropped blackmail charges against him and deputy Shaun Reardon. He said he wanted the removal of secret ballots and ­notice periods before protected strike action could be taken, and called on Mr Shorten to give ­unions unfettered rights to enter workplaces. He also said Kevin Rudd and Julia Gillard were "probably the worst Labor prime ministers" in Australia's history.

The Coalition accused Mr Shorten of having a "secret deal" with the CFMMEU, which backed him as leader over Anthony Albanese and continues to provide factional support for him in Victoria.

Workplace Minister Craig Laundy said Australia could expect a "return to a 1970s-style of ­industrial disputation" under a Shorten government.

https://www.theaustralian.com.au/national-affairs/industrial-relations/bill-shorten-wont-say-no-to-cfmmeu-donations/news-story/1c003ad4e719e6df5f170c2ef39d1eb9